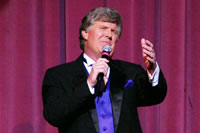 Stephen Ditchfield is a highly accomplished Bass/Baritone soloist and is acclaimed for being the consummate performer, whether on stage in concert before thousands, or in the intimate atmosphere of a private party or special event. He has been entertaining and inspiring audiences for over 30 years and is the Musical Director of the Ditchfield Family Singers. He has recently been recognized as "one of the finest Baritone voices in America today" and sings an incredible variety of songs and musical styles.
Solo performances range from 30 – 90 minutes and can be customized for almost any occasion.
Performance Options
Broadway Showstoppers
Greatest Singers – Greatest Songs
Inspirational/Gospel
Christmas Memories
Stephen is a great choice for concerts, shows, and special events, but because of his vibrant style, his performances are an experience in themselves, and are not ideal as background music or dance accompaniment.
Request More Information or Book Now!
For your entertainment director or committee, download a flyer with Stephen's
contact information.
To advertise your event, download a flyer with space at the bottom for you to add your contact information.